Vissza
Gerbeaud New Years Eve 18
The first performance of Mozart's Don Giovanni took place 230 years ago in Vienna, which is considered to have a significant importance in the music history.
The leitmotiv of the New Year's Eve program in 2018 is Don Juan's love. The nicest and best known duets and solos in the opera literature are about desired love, fulfilled and desired love.
The artists of the Hungarian State Opera House are going to entertain the guests in the 160 years old Gerbeaud Átrium Event Hall with a 50 minutes show.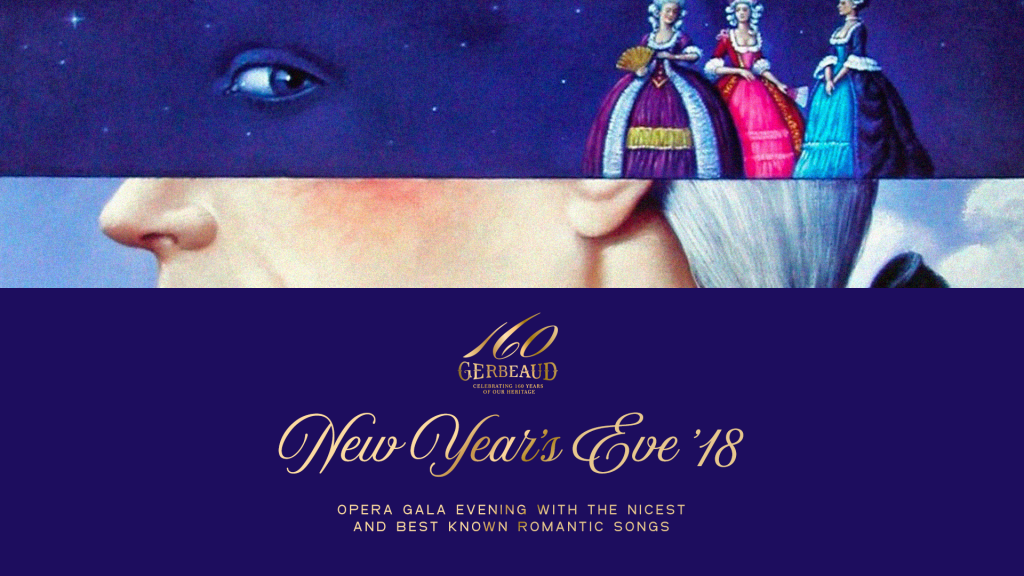 PROGRAM
18:30 RECEPTION OF GUESTS
19.00 OPERAGALA WITH LOVE MELODIES
20.00 SERVED 5-COURSE DINNER
22.00 INTERNATIONAL LOVE HITS AND DANCE WITH DJ
23.30 MIDNIGHT SNACKS
02.00 END OF THE PROGRAMS
WELCOME DRINK AND MINI BITES
Hungária Grande Cuvée Champagne
Hungarian "Pálinka" selection
Orange juice, Mineral water
Smoked trout with pickled morel, Duck breast tartar with smoked aubergine and goat cheese,
Blood sausage-apple rolls
5 COURSE SERVED DINNER
Goose liver selection: goose liver macaron, smoked goose liver carpaccio, bon-bons with marinated dried apricot
Rooster soup with sesame homemade ravioli and quail
Pike perch medaillon with parsley kohlrabi veloute
Saddle of venison with pumpkin mousse, balsamic vinegar onion coulis and potato crisps
Gerbeaud 160 cake
Coffee or tea, Gerbeaud 1858 chocolate
UNLIMITED DRINK PACKAGE UNTIL 2 AT DAWN
Dreher beer
Wine selection of the Gerbeaud House (white, red, rosé)
Fizzy drinks and juices
Sparkling and still mineral water
CHEERS AT MIDNIGHT
1 glass of Hungária Grande Cuvée
Lamb terrine with fried pepper salad
Salty stangli and scone varieties from the Gerbeaud Bakery
Poppy seed dumps
PRICE OF THE NEW YEAR'S EVE DINNER: 55 900 HUF (190 EUR) / PERSON
The price includes the VAT, 15% of service charge, opera performances, welcome drinks and bites, 5 course dinner, drink package , the midnight bites and the music program.
Tickets will be sold exclusively in pre-sale. Tickets can be booked by sending a reservation for the following email: sales@gerbeaud.hu