Vissza
Gerbeaud Café celebrates it's 160th anniversary this year. On this noble occasion, we recall the great works of Hungarian confectionery history, which are presented in the original and in a modern version as well.
From August until October we offer the Éclair anno and 21st century.
The éclair originated during the early19th century in France where it was called "pain à la Duchesse" or "petite duchesse" until 1850. Some food historians speculate that éclairs were first made by Antonin Carême (1784–1833), the famous French chef. The word comes from French éclair 'flash of lightning'.
Éclair 1858
Choux pastry filled with cream flavoured with Bourbon vanilla, coffe flavoured whipped cream and fondant topping.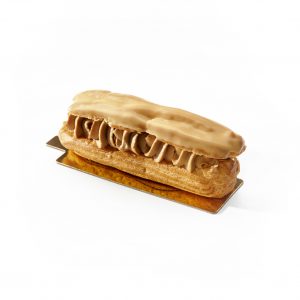 Éclair 2018
Choux pastry made with cocoa crisp with yuzu cream, hazelnut and dark chocolate crispy layer, homemade blackberry jam and milk chocolate ganache, decorated with dark chocolate.
Have a taste of it, we are looking forward to welcoming you!